La Taguara, are arepas from Venezuela? Colombia?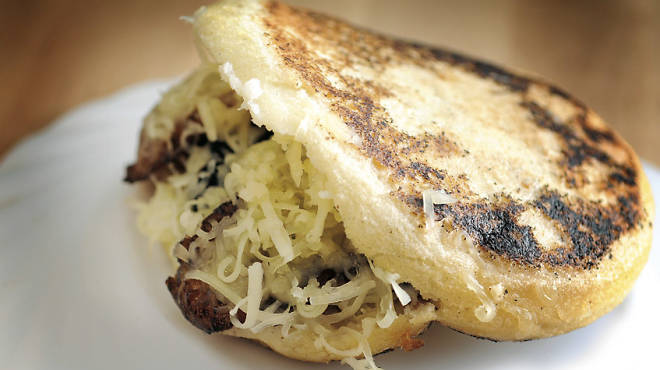 In La Taguara you can either have a sit and eat Venezuelan-style arepas or eat them standing around the place. An arepa is a patty made of cornmeal or flour very popular in Venezuela, Colombia and other Spanish-speaking countries. It can be topped or filled with meat, eggs, tomatoes, salad, cheese, shrimp, or fish.
Choose the premade combos or even make your own combination! And finish it all off with one of their exotic shakes and natural juices. Try their new hallacas too! An hallaca is a mixture of beef, pork, or chicken, raisins, capers, and olives wrapped in cornmeal dough, folded within plantain leaves and boiled afterwards.
Special thanks to our friend Sheila, a true Barça supporter, a true culé, who took us to this place. And Javier, who organized an amazing dinner at his cozy apartment, teaching how to cook yummy Venezuelan arepas and sharing good vibes.
LA TAGUARA AREPERÍA
Where: Carrer del Rec 10. "Jaume I" metro station [L1] or [L4].
Mon-Sun 1 pm-11:30 pm
Like them on FB
We own no rights to the images
Please follow and like us: